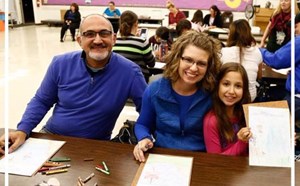 Garden Park Elementary School has a variety of school events for families.  Recently, we hosted a Family Art Night where students and parents came together to put their artistic talents on paper.  We know that strong parent engagement in a child's ed…
Principal's Message
Dear Garden Park Students and Families:
Welcome to the 2018-2019 school year at Garden Park Elementary!
Here at Garden Park we are excited about this new school year and are looking forward to accomplishing the vision of our school, which is to be a safe place where our caring and encouraging spirit results in high academic achievement for all students.  We embark on this new school year with great expectations for student achievement as we continue to focus on developing the whole child, both the academic skills and personal skills needed, in order to prepare them for lifelong success. With a school-wide focus on scholarly habits, a college-going culture, and having a growth mindset, students are encouraged to put forth their very best effort and to practice the scholarly habits that ultimately motivate and lead them to experience success each and every day.
I invite all members of our community to participate in our school programs.  Our parents (and grandparents) are welcome on campus, whether it is working with the parent leadership groups, volunteering in classrooms, or helping out at special events.  Your efforts make a difference every day for so many of our Garden Park students.  Together we sustain our excellent educational program, and continue to build a strong community partnership.
It is my hope that when you visit our school, you feel the strong sense of community and family pride.  Our school  in partnership with our amazing PTA and various parent groups provide many events that strengthen and enrich our home & school community.  There will be many activities that include families, and I want to encourage you to participate in as many of these activities as you possibly can.   Please refer to our school website and the various PTA flyers that are sent home with your child in order to be kept informed of these opportunities.
I look forward to working together this year as partners in learning.   I'm proud to be here at Garden Park, home of the Geckos, "Where learning sticks".
Sincerely,
Mrs. Michelle Morales
Our School
Welcome Garden Park students, families and community!
At Garden Park, we are committed to equipping all of our more than 250 students with the academic and personal skills for lifelong success. Our school has a long record of academic excellence and students consistently outperform the state average on rigorous state standardized testing.  Garden Park is a GATE (Gifted and Talented Education) cluster school, meaning students identified as gifted remain in their classroom as all Garden Park educators are trained in GATE strategies and able to increase the academic rigor to meet the needs of all students.  
We offer a variety of after-school programs to help enhance the educational experience of our scholars, including:
The Art Masters program is offered every trimester and provides students with an opportunity to learn about iconic artists and utilize artistic techniques to express their creativity!
Chess Masters teaches students the skills and critical thinking strategies of chess and allows them the opportunity to compete with each other in chess matches.   behind chess. 
Our Coding program teaches participants early levels of computer science and the importance of technology. 
Aspiring Actors is a workshop designed for students to explore scene work, improvisation, monologue work, public speaking, problem solving and memorization. Parents are then invited to watch student performances.
Comic Creators teaches story-telling and encourages creativity. Students compose and illustrate their own comic book to promote a personal narrative and sense of identity.
Sixth Grade Academic Pentathlon is a team of nine sixth graders that study a specific region and culture of the world in the core subjects of Math, English Language Arts, History, Science and Fine Arts and then compete against other schools in Orange County. Students become collaborative critical thinkers as they work in groups during county competitions.
We are grateful our PTA is very active on campus, and organize many popular events such as Skating Night, Trunk-or-Treat, Winter Cookie Workshop, Movie Night, Sweetheart Dance, Walk-a-thon, and more. Every month, our PTA also holds the Family Dining Night, where students and families have dinner at local restaurants. Families explore the community and form emotional bonds by spending time together. PTA members also fund programs and materials, such as the Accelerated Reading program and the Art Masters program, homework planners, field trips, and more.
We are committed to celebrating our students' many accomplishments. Our Monthly Geckos Award Ceremony awards honors students for demonstrating our monthly scholarly habits. Each teacher nominates two scholars from each class to be awarded during the outdoor Friday assembly. We also have the Trimester Awards which incude recognition for outstanding behavior and responsibility for learning, accelerated readers awards, and special recognition awards. 
Garden Park is a small school with a strong sense of community, with staff and parents working closely together with a focus on academic achievement.  
Please feel free to stop by our office for any questions, comments or concerns. We are excited for a new school year with our scholars, families and community!